We're pleased to offer the following services at Langley Animal Hospital: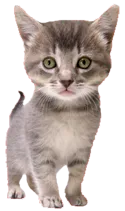 Our appointment book is computerized, which allows us to efficiently make appointments for you and your pet. We are a daytime full service veterinary practice with two practicing veterinarians. Our receptionists and team will attempt to accommodate all scheduling requests to the best of our ability.
Preventive Care
Our veterinarians strive to provide the best preventative care practices to your pets through our annual examinations. Discussions on diet, vaccinations, monthly flea/tick/heartworm preventatives, routine diagnostics, and more can be covered in an exam. Please ask your veterinarian any questions you may have regarding your pet's health in their physical exam. Vaccinations preventing against Rabies, Bordetella (kennel cough), Lyme disease, Distemper virus, Parvovirus, Parainfluenza virus, Adenovirus type 2, Coronavirus, and Leptospirosis are provided for our canines. Preventive vaccines for Rabies, Leukemia virus, and our FVR-CP vaccine protecting against Calicivirus, Rhinotracheitis, and Panleukopenia virus are our recommended vaccinations for felines. Annual check ups are encouraged for our doctors and staff to become familiar with your furry friend and keep them up to date on their prescriptions. For our patients entering his or her senior years we like to offer senior wellness plans based on the needs of the individual.
Preventives are also important to continue at home! Each month we encourage our clients to give our canine patients their heartworm protection, Heartgard, and flea and tick control with either Frontline Gold or Nexgard, the chewable variety. We also recommend Simparica Trio, the flea, tick, and heartworm prevention in a once a month chewable tablet. Heartworm testing is required yearly to maintain your pet's heartworm prevention prescriptions. In our feline friends we recommend Revolution Plus, this is a flea, tick, ear mite, and heartworm preventative that is a once monthly topical application. If there are any questions on products available please give our friendly staff a call.
Diagnostics
We offer in-house routine and diagnostic bloodwork, urinalysis, fecal examinations, heartworm testing, FIV/FeLV testing, allergy testing and management, as well as radiographic imaging. Ask about our Preventative Care Wellness panel in your next patient visit for a discounted rate on diagnostics!

Surgical Procedures
Surgeries offered include routine general dentistry, spays, neutering, as well as growth removals. More extensive procedures such as urinary bladder stone removal, corneal ulcer repair, foreign body removal, and some orthopedic surgeries are also performed among many others. Any procedure may be referred to a specialist per the suggestion of our doctors for the specific need of the patient.

Because of our variety of pets loved by our veterinarians at Langley Animal Hospital, we care for many types of pets:
Dogs
Cats
Rabbits
Pocket Pets
Ferrets
Langley Animal Hospital offers discounted services to local area rescue groups. Pre-approval is required to qualify for the rescue group discounts, please call us for more information.